Girls' Night Out (GNO) is a wonderful thing, but sometimes you need an entire day with your best girlfriends (or if you can get it – a day and night). Because free time is a fluid resource that may come and go, it's good to have a few Girls' Day Out (GDO) plans in your back pocket to pull out in case of a whole day to yourselves.
Below are a few San Diego County spots to consider if you're putting something fun together for your girlfriends:
Pacific Beach: Party Time By the Beach
I have had so many memorable days & nights out in Pacific Beach with my best friends. Pacific Beach (called PB by locals) is a blast for a San Diego girls trip. PB is a coastal northern neighborhood of San Diego. It has fun dive bars, epic breakfast spots, and miles of gorgeous beaches perfect for sunbathing and boogie boarding. There are also several budget-friendly boutiques in PB for some shopping. If you want to do some higher end shopping you're just a quick Uber from La Jolla.
PB has a bit of a party atmosphere, but that's part of the fun. The beaches are what bring people from all over the state, perfect for during the day, while at night, PB's dive bars and beachy dance clubs are perfect for letting loose. If you want something a bit less crazy, head to the north part of PB and hang out at some of the calmer restaurants and bars that are still right by the ocean.
Where to Eat: Kono's Cafe for coffee and epic breakfast burritos; World Famous for awesome omelettes, yummy lunch fare, and great ocean views; Fig Tree Cafe has excellent breakfast and lunch items in a quaint garden setting; Crush or for delicious brunch items and mimosa flights; and Enoteca Adriano for a gourmet dinner in a unique setting located in a converted house and with a wonderful ambiance –and awesome food!
Gaslamp Quarter: the Heart of San Diego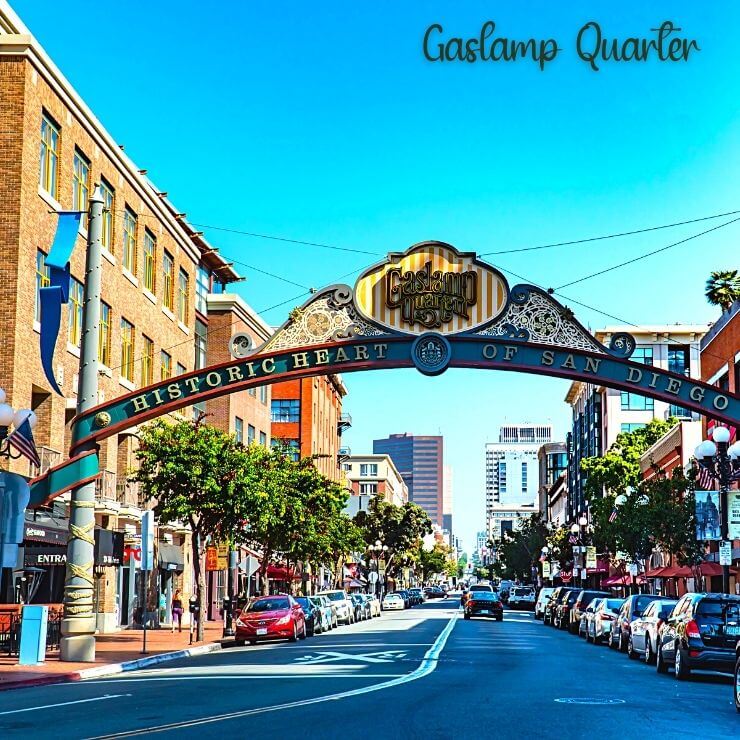 The Gaslamp Quarter is a great place to base yourself in San Diego if you're looking more for city life than beach time. The Gaslamp Quareter is a mecca for delicious, gourmet restaurants and cool bars. Lots of shops and boutiques are located along the Gaslamp Quarter as well. It's also close to the harbor and nautical museums, while the museums of Balboa Park are a short Uber ride away. You can also hop on the San Diego Trolley to easily spend an afternoon or evening in Old Town.
If dancing is what you want to do, then the Gaslamp Quarter is the place to head. It has all the epic clubs of San Diego, many of which have outdoor spaces with DJs so you can dance the night away in the open air.
Where to Eat: A couple of my favorites include the Rustic Root, Born & Raised and Searsucker.
Spa Day at the Ranch Bernardo Inn
Grab the girls and head to the zen-like spa facilities at the Ranch Bernardo Inn ranchobernardoinn.com/spa/ All spa treatments include the $40 admission to the facilities like the steam room, jacuzzis, and pool. Either buy a spa package – which often includes lunch – or just lounge by the vast pool in a cabana and order food and drinks off the menu. You can also enjoy an enclosed garden with a saline waterfall whirlpool and while the day away chatting and relaxing. If you choose a spa treatment, there's dozens on the docket (especially popular are the scrubs and facials featuring seasonal ingredients like ginger and pumpkin) and are given in peaceful casitas surrounded by flowers and cobbled walkways. If you manage to get more than eight hours, check the RB Inn's site because they often have hotel room/spa treatment/dinner specials for a true GDO-GNO experience.
Enjoy the Views at Cordiano Winery
This gorgeous winery is high up in the hills of San Pasqual Valley in the Escondido area. The vast patio overlooks awe-inspiring views and is the perfect place to spend some downtime with your friends. Wine tastings, which include 7 samples (including a superb Cabernet-Franc), are $10 and the simple but tasty menu features pizzas and salads. The winery is open from 11AM to 8PM, but either grab a cab/car service (try Uber) or get a designated driver to deliver you down the winding roads and back to reality. The owners are talking about some day adding lodging to the property so driving home isn't necessary and that would be a lovely option.
Hang at The Spa at La Costa
This GDO is also all about relaxation. Get your group together and plan a day at the spa with its lovely private gardens, pools, sauna, steam room, and roman bath. This property is so beautiful you may just want to lounge by the pool and watch the scenery and have a healthy lunch like the kale and chicken wraps. Of course, you can also head to the Infinity pool bar if you want to mix it up, but really, you'll probably just want to bliss out to a spa treatment and girl hang time. If you're super ambitious, walk the Reflexology Pathway and check out the retreats and workshops at The Chopra Center located on the spa's grounds. Spa hours are Monday through Wednesday from 8:30AM to 7:30PM and Thursday through Sunday from 8:30AM to 8:30PM.
Plan a Torrey Pines Hike
If your group is the outdoorsy, active type, you all might enjoy a hike up the bluffs at Torrey Pines. Either walk the beach to the hiking trails or start immediately up the bluffs from the southernmost parking lot. There's a variety of trails to explore, but you must finish with the Beach Trail that wanders down to the beach in a spectacular fashion. Afterward, head to Zels on Camino Del Mar for some after-hike patio dining and when they have it – live music.
Address: 12600 North Torrey Pines Rd., San Diego 92037
Walk and Shop La Jolla
La Jolla has TONS of upscale shops and boutiques to see. From Lululemon to Ferrari car show rooms, there is plenty to see and do. Picture…Rodeo Drive meets the beach. Start your afternoon with some shopping..stick your heads in the dare we say, hundreds of shops, boutiques, and galleries that line not only Prospect but the side streets such as Fay, Herschel, and Wall. After your arms are full of shopping bags, go eat some seafood appetizers at The Hake and then cap the afternoon with a cocktail or coffee at George's Ocean Terrace and watch the sun dip into the Pacific.
Address: The Hake – 1250 Prospect St., La Jolla 92037
Website: http://www.thehake.com/ and http://www.lajollabythesea.com/shopping